Maggi, Maggi, Maggi– the two minutes advertisement of the two minutes Maggi noodles are the two minutes of temptation for most of us. If you, like me, were brought up in India, I am sure you've grown to slurp the Maggi noodles in the evenings! And why just evenings, this is one such snack we enjoy any time of the day. There are days when you get cravings and I can say this so confidently because I get them even at 22. But as they say, you're never too old for Maggi noodles.
Now that we know we love it so much, isn't it worth experimenting a little? I am sure everyone has a personal favorite way of eating these instant noodles.
Well, I have many of them depending on the mood, the weather, and of course, the ingredients available at home. Although it isn't the best thing in the world to eat, it is for sure, that second slice of chocolate cake which you just cannot resist whatsoever. And not to forget, the "tastemaker" is the soul of Maggi but it is not always necessary to add it. For example, in the Italian version, you can use red pasta sauce, add some mushrooms and olives, and skip the tastemaker.
So, here are some of my favorite magi recipes that you can try out-
1.Maggi masala maarke
The simple Maggi with just the tastemaker is good but almost 2 minutes masala Maggi made with extra spaces, onion, tomatoes, and green chilies, is pure love. It is simple to make and tastes heavenly. All you need to do is prepare a 'tadka" with chopped onion, tomatoes, and chilies in oil. Sauté it and then add water with the tastemaker, extra spices (the magic masala is the best option) and noodles let the it boil. Enjoy the spicy hot noodles with your favorite soft drink.
2.The soupy Maggi
How cool is the concept of soup with noodles! You get to use both the fork and spoon together. Just kidding! As yummy as this recipe sounds, it isn't 2-minute stuff for sure. You start by chopping your favorite vegetables (carrots, spring onions, celery, etc.) You can also use boiled sweet corn if you want. Fry all these veggies in a little oil. To this, add the vegetable stock and cook it until it is reduced to half the volume. Now add the noodles and masala to it and bring to boil!
The Maggi is done, so start nom nom nom!
3. The Egg Maggi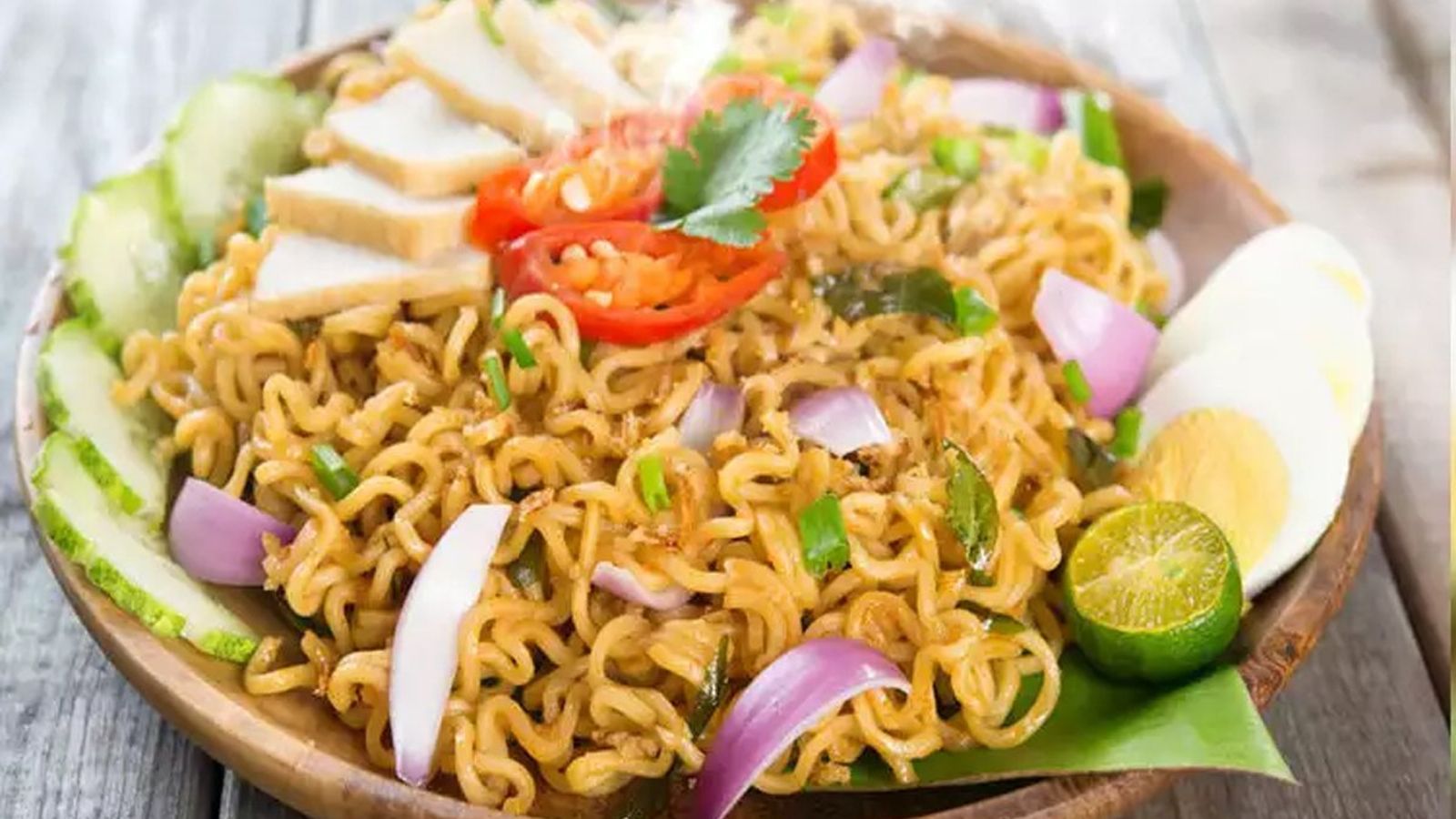 Those who love eggs must have tried this utterly delicious variant at least once. Well, the combination of an omelet and Maggi sounds pretty exciting, isn't it?
All you have to do is add 2-3 eggs into the noodles (depending on the quantity of Maggi) and whisk vigorously.
And there you go, serve it hot with your favorite drink. Another variant is the egg-bhurji Maggi. For this one, you'll need 2 pans. Make the normal noodles in one and egg bhurji in the other.
Oh wait, do you know how to make egg bhurji?
Well, heat some oil in a pan and add roughly chopped onions and green chilies, a dash of your favorite spices, and egg yolk. 5 minutes on medium flame and yummy egg bhurji is ready.
Now toss the noodles and bhurji together and tadaa..!
4. Tandoori Maggi
This mouthwatering recipe is worth a try even if you don't like Maggi as much. Until a few months back, I thought I can't make it because we need a tandoor to prepare it.
Guess what? You can do without a tandoor as well and it tastes so good. You can either add the tandoori masala/ paste/sauce (available in the market) or you can make the tandoori sauce at home! You'll need garlic, ginger, green chilies, coriander leaves, and some dry spices. Make a paste of all these ingredients and add it to curd along with the Maggi tastemaker. In this mixture, you can also marinate your favorite vegetables like onion, capsicum, and French beans. Let it rest for about 15 minutes.
Meanwhile, boil the noodles( without the masala nd you've already added that to the mixture). Now heat a pan and cook the marinated mixture for a tasty, creamy sauce. Add the boiled Maggi noodles to this and let stir well!
Now what? By the time you get your dish from the cabinet and prepare your favorite mocktail, the aroma of spices from the pan will let you know when to remove it from the stove.
5. The chicken Maggi
Let's not disappoint the non-vegetarians. Maggi is for you too! Left with some chicken tonight? There are multiple ways you can play with this one ingredient. You can preferably use boneless chicken either made at home or tandoori chicken from your favorite restaurant. Add the pieces to your Maggi as it cooks, and enjoy the easy-breezy chicken Maggi at the comfort of your home!
Well, I am sure there are many other interesting Maggi variants eaten in different parts of the country. Punjabis would put in some paneer and call it the "Punjabi Maggi" while someone else might add a range of sauces and lots of greens to make the "Chinese Maggi". There's no limit to creativity and when it comes to food, you have no other choice. Food connects us, and we totally agree with that! Do share your recipes with us and check out our food blog for more such interesting recipes.
So, can we meet for a Maggi sandwich, what say? 😉